Timberline's SteelStar Connectors have been tested for strength by an independent firm of testing engineers. The average breaking point was approximately 12,000 pounds — a factor of safety exceeding four times necessary strength.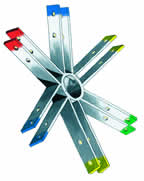 Our Connector Value Package is available separately for people who prefer to cut their own T-Blocking, studs and plywood. Complete dome cutting plans, plus samples of studs and T-blocking are included with every Connector Value Package.
Whether you buy a complete dome kit — or just the Timberline Connector Value Package —our unique SteelStar Connector system makes dome assembly quick, easy, accurate and extremely strong.
Use our Ledger Hanger System hardware with Timberline SteelStar Connectors in a 5/8 sphere dome to support a second floor from the dome shell.

PRODUCT INFORMATION | BUILD A DOME | PLANS | FAQS | ABOUT US | SCRAPBOOK
© Copyright 2006-2018. Timberline Manufacturing Inc. All rights reserved.
Timberline Geodesics and the Timberline Logo are Registered Trademarks of Timberline Manufacturing Inc.