Unlike any other dome building system, our unique, patented Timberline Ledger Hanger hardware uses the existing structural framework of a 5/8 sphere Timberline dome itself to form an auxiliary framework for a second floor.
The ledger hanger hardware fits snugly into the existing heavy-duty Timberline Connectors of the dome and is bolted into place.
It is an extremely easy and efficient way for the owner-builder to design and construct a "custom" plan for a second floor. Architects and contractors have praised the simplicity of the design of our ledger hanger system.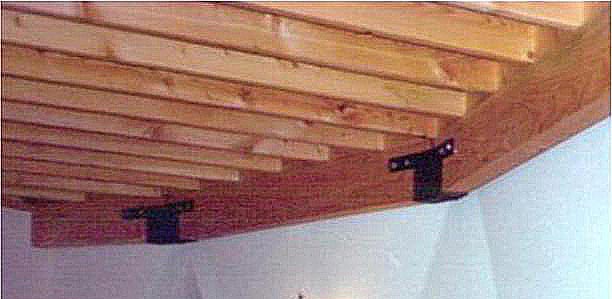 PRODUCT INFORMATION | BUILD A DOME | PLANS | FAQS | ABOUT US | SCRAPBOOK
© Copyright 2006-2018. Timberline Manufacturing Inc. All rights reserved.
Timberline Geodesics and the Timberline Logo are Registered Trademarks of Timberline Manufacturing Inc.